Welcome to the Historical Fiction Online forums: a friendly place to discuss, review and discover historical fiction.
If this is your first visit, please be sure to check out the
FAQ
by clicking the link above.
You will have to register before you can post: click the
register
link above to proceed.
To start viewing posts, select the forum that you want to visit from the selection below.
Bibliomaniac
Posts: 2642
Joined: August 2008
That sounds like a lot of fun!

Thanks so much for starting us off!
---
---
Bibliomaniac
Posts: 3066
Joined: August 2008
Location: North Carolina
Contact:
[quote=""Volgadon""]What days are left?[/quote]


The first post indicates which days have been taken. There's still plenty left!
---
Bibliomaniac
Posts: 2642
Joined: August 2008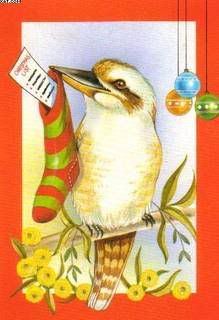 One of the Christmas traditions in Melbourne is the Myer store windows. Each year Melburnians are treated to a beautiful display based on either famous stories, or different aspects of Christmas.
The display contents and storylines are top secret until the windows are put on display each year, but I have been able to find some links to some of the older displays.
Here is a link to the
2001 Christmas windows
which had a Wind in the Willows theme. The windows themselves are animated so lots of movement and music, but hopefully you will get a fair idea of them from the link!
We've already been to see the window's this year and they were great again. I have realised that my boy is growing up, and soon won't be interested in this kind of thing which will be a shame!
Another major Aussie tradition is Carols by Candlelight. Each of the major cities has a Carols by Candlelight service, with the ones from Sydney and Melbourne being televised across the country. Thousands and thousands of people crowd into a major park, bringing blankets, food, champers, and good company and spend the late afternoon waiting for it to start to get dark enough to start the carol service and most importantly, to light the candles, and at the end of the night....fireworks! Lots of famous singers participate (as well a few celebrities who would like to think that they can sing), the audience sings along, all the while helping to raise funds for some major charities.
However, even more fun are the local services that are held all over the suburbs. They can vary in size between really small, and quite large events depending on the area. One of the ones in my area is held at Werribee Mansion. The gardens become a huge picnic ground for several thousand people. The ice cream van does a brisk business, Santa inevitably makes an appearance and everyone goes home full of Christmas cheer. It is a perfect event for families to get together and spend some time together, although you do usually need to ensure that you remember the sunscreen and the insect repellent!
The local event is being held this Saturday...maybe! I say maybe because there has been a LOT of rain here in the last couple of days, and they are expecting storms on Saturday. Last year we didn't go because it was 40C - far too hot! This year it will be because of the rain. Maybe next year!
I will however be watching the ones on TV!
---
---
---
---
Is it my turn today? I've kind of lost time! I think I said the 13th!
Anyway, around this time of year my family all used to pay a Christmas visit to my grandmother and her sister who lived more or less next door to each other in a north of England mill town. Our family had moved away from our roots, but we still went to visit gran at Christmas, and she came to us at Easter. Christmas time to me always kicked off with that early to mid December visit to my gran's and and great aunt's. We'd drive up the motorway with carols playing on the car radio. If we took the route through the Peak District, then on the way back, all the little villages had their Christmas lights on, and I would spot the Christmas trees in people's windows. It was all part of that anticipatory lead up to Christmas. We'd start off at great aunt Elizabeth's where she would have prepared a delicious, traditional Lancashire dinner - steak and potato pie, vegetables and jars of pickled red cabbage and home-made picallili. Pudding would be a massive sherry trifle. There would be crackers and Christmas hats and then the children in the gathering would be asked to take little table presents round to everyone gathered. I loved these. They were always quirky. The idea was to spend less than five pounds and where gran and great auntie were concerned, these gifts were usually obtained at tombolas and jumble sales. For the women there'd be tights and bath salts, for the men cigarettes (they smoked then! and a handkerchief). For children it would be a toy car, or a small doll with hand knitted clothes.
To have the responsibility of handing round the presents was a magical thing for a small child to do. There was the delight of the family companionship and the spark of actually being allowed to open a pressie before the big day.
The whole experience was repeated as we decamped 500 yards up the hill to my gran's house. She would provide tea - cold meat and salad, mince pies, Christmas cake, fruit and jelly. And once more, another set of present giving because it was now her turn to play host. My parents always brought 2 sets of presents for the old ladies too. The tradition continued into my adult years as I brought my fiance to the table (and he too received his cigarettes and handkerchief). then in time our own sons came to love the small, but magical moment of handing round the presents.
Sadly, but in the circle of life, my grandmother and great aunt are no longer alive and we have no reason to make that journey to our mill town in Manchester, but we still remember the moment with love and still continue the tradition.
As part of my post, I thought I'd post a few little prezzies in the form of online winter games. Some you probably know very well.
Sober Santa2 Use the cursor keys to keep Santa off the rails!:
http://www.addictinggames.com/sobersanta2.html
Thin Ice - skate round the monsters
http://www.miniclip.com/games/thin-ice/en/
Make your own snowflake
http://www.popularfront.com/snowdays/in ... etect=true
Les proz e les vassals
Souvent entre piez de chevals
Kar ja li coard n'I chasront
'The Brave and the valiant
Are always to be found between the hooves of horses
For never will cowards fall down there.'
Histoire de Guillaume le Mareschal
www.elizabethchadwick.com
---
Bibliomaniac
Posts: 2642
Joined: August 2008
[quote=""Telynor""]If no one has asked for it yet, I'd be interested in the 21st.[/quote]

It's yours!

Lovely description of your visits to your home town EC.

Anyone else want to pick a date?
Last edited by
diamondlil
on Sat December 13th, 2008, 8:35 pm, edited 1 time in total.
---
Bibliomaniac
Posts: 4336
Joined: August 2008
Currently reading: The Farm at the Edge of the World by Sarah Vaughan
Interest in HF: The first historical novel I read was Katherine by Anya Seton and this sparked off my interest in this genre.
Favourite HF book: Gone with the Wind by Margaret Mitchell!
Preferred HF: Any
Location: North Yorkshire, UK
I'm enjoying reading what others do at Christmastime. I'll do the 15th.
currently reading: My Books on Goodreads
Books are mirrors, you only see in them what you already have inside you
~ The Shadow of the Wind
---