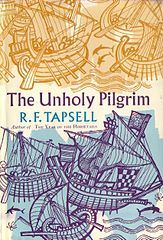 The galley pitched over without warning, her stability destroyed by the sea-water rushing into her hold, and Tancred was thrown helplessly against the rails. Unable to resist the pull of gravity, he catapulted over the bulwarks and plunged into the dark, hostile water, paralysed with shock and fear.
Pilgrim without a scrap of piety, Norman soldier of fortune Tancred of Varville is not a happy camper. First he's been forced by King Louis IX of France to undertake a tedious pilgrimage as condition for the restoration of his family lands, now his reluctant journey to the Holy City has taken an abrupt turn for the worse. Ship-wrecked off the wild Dalmatian coast, he washes up on the shores of Frankish Greece, only to be delivered straight into the hands of his former employer and worst enemy, Guy de la Roche, Duke of Athens. Tancred's only hope of escaping summary execution lies with the Duke's devious Venetian companion, Angelo Sanudo, Lord of Naxos, who, it seems, has a purpose in mind for an expendable mercenary knight of dubious reputation.
The short-lived
Latin Empire of Constantinople
is the turbulent setting for this entertaining historical adventure full of intrigue and incident, treachery, romance and a host of colourful, untrustworthy characters, many of them actual historical personages. The fall of Constantinople in 1204 to Crusaders from Western Europe has thrown the whole of the Levant, the Mediterranean and Asia Minor into ongoing turmoil. Violence, lawlessness and piracy become commonplace as Frankish, Genoese and Venetian freebooters vie with each other and the Turks for lands and plunder, while deposed Byzantine noblemen plot and scheme to reclaim their stolen empire.
Tapsell was one of a group of mid-20th century British historical novelists who were both scholars with an interest in military history and soldiers who understood the psychology of the fighting man; authors like Wallace Breem, George Shipway, Alfred Duggan, John Masters and Ronald Welch. They knew their stuff and and they shared a certain straightforward, masculine style – intelligent, vividly descriptive, unsentimental, and characterised by plenty of action and great battle scenes.
Unfussy and evocative of time and place,
The Unholy Pilgrim
has weathered well - it remains very readable and would warrant a reprint. While it doesn't step out of period, it's refreshingly free of the macho sexist and racist attitudes to be found in some older novels (think John Jakes & co). It isn't quite as simple as it seems at first glance, though. Tapsell draws his engaging protagonist with such deceptive subtlety that it's easy to forget we shouldn't take him at face value. Like the Viking ancestors he resembles, in a dog-eat-dog world guile is a weapon Tancred wields just as effectively as his sword: "his smile was a frank and disarming expression, the value of which he had long ago discovered." Is he hero or just another "scoundrelly, northern knight"? Although in the standard historical adventure mould, a dash of moral ambiguity gives this rattling good yarn a satisfyingly unpredictable edge.
Published in 1968 and prefaced by a useful Historical Note,
The Unholy Pilgrim
is currently out of print.
R.F. Tapsell
only ever wrote three novels, all excellent and with historical settings rarely used. They're hard to come by now except for the first and best-known,
Year of the Horsetails
, which has recently been reissued and is available in both print and Kindle editions.