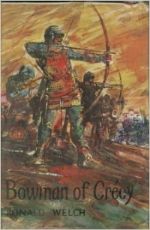 The three men moved quickly and silently through the forest. They were almost invisible in the dark shadows where the trees grew thickest, and when they came out into the open and the bright sunlight to cross some clearing, their dark-green jerkins and hose merged with the background of bush and leaf. They were all armed with a sword and dagger, and each carried a great bow, five feet or more of polished wood.
Raised by the outlaws of Goodrich Forest who found him as an orphaned baby lying by the roadside, Hugh Fletcher has never known any other life. Now a young man, his exceptional woodsman's skills, intelligence and force of personality have made him undisputed leader of the outlaw band. But he's grown restless and dissatisfied. He craves adventure and new experiences in the outside world.
A chance for change comes unexpectedly when he saves Sir John Carey and his wife from an attack by brigands. Impressed by his young rescuer and his disciplined band of bowmen, Sir John offers them a commission. He needs experienced archers for the company of soldiers he's raising. King Edward III and his son, the "Black Prince", are off to make war on France, and Sir John is one of the King's most trusted captains. And so Hugh the outlaw takes service with the King of England, and plays a significant part in the battle that proves, to devastating effect, the superiority of the English longbow over the might of France's chivalry.
Hugh drew and loosed. His shaft shot away and was lost immediately in the hundreds that surrounded it, swooping over the slope, the flight almost flat. He nocked and drew again, and then for a third time, before the trumpeter called the cease fire. He let out his breath in a long sigh and lowered his bow. The chivalry of France, so confident and brave, in all the glory of their pennons and painted shields, with the proud arms of their families on their jupons and surcoats, mounted on magnificent chargers, had become a shambles.
Second in a series of linked but stand-alone stories featuring pivotal English military campaigns from the 12th to the 20th centuries,
Bowman of Crécy
painlessly incorporates a wealth of detail about 14th century life and war into a well-written and stirring Robin Hood-style adventure aimed at older boys. If you want to know in clear and easy-to-follow terminology how a bow was made or the way the Battle of Crécy played out, this is the book for you. While Welch doesn't dwell upon gruesome details, he spares no punches about the dangers and easy death associated with the period, or the brutality of war for soldiers and ordinary citizens alike.
With the 14th century looking set to become the new Tudor as far as historical adventures go, maybe this top-notch "Boys' Own" story will find a new generation of young readers?
Bowman of Crécy
contains a useful Historical Note. It was first published in 1966 and reprinted in 1997, but is unfortunately currently out-of-print. Second-hand copies are horrendously expensive, but it can still be sourced through the library interloan service.
A list of
Ronald Welch
's other
Carey Family
stories in chronological order can be found at
Fantastic Fiction
. To save confusion, it helps to know that the Careys are also the Earls of Aubigny.
*Edited to say that OUP has this year reissued the first
Carey
novel,
Knight Crusader
, in both p/b and Kindle editions, and
Slightly Foxed
have announced that they are reprinting all the
Carey Family
titles over the next year or two. "We're delighted to announce that
Slightly Foxed
is republishing all 12 of Ronald Welch's
Carey
Novels.
Knight Crusader
,
The Galleon
and
For the King
out 1 September 2013. Subsequent titles to follow throughout 2014-2016. Each title will be published in a cloth-bound hardback, hand-numbered limited edition of 2000 copies. £16 (approx US$26) each."