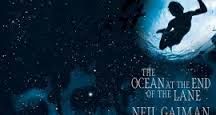 I loved this story - I've lived it, sort of! Like Gaiman's nameless narrator, I was a rather solitary, imaginative, bookish child of the post-war British Empire; that now-distant time of relative affluence and stifling conformity before the advent of televison, computers or mobile phones. I know this Dennis Potter-meets-Enid Blyton world – filtered through the inescapable cruelties and miscomprehensions of childhood, it was a time of cosy certainty for children; roast lamb dinners followed by steamed pudding with custard, and rambles down unsealed, blackberry-hedged country roads long since overtaken by suburban sprawl. But we knew about the borderlands of the wild things, us country kids. Unshielded from the realities of birth and death, of "nature red in tooth and claw", and with the veils of all possibilities still shifting about us, we knew that tigers lived under the bed and that gods and demons were as real as you and I.
I see the influence of much-loved childhood authors lurking beneath the surface of
The Ocean at the End of the Lane
, authors like Kipling, Tolkien, Henry Treece, Rosemary Sutcliff and Alan Garner, whose work was shaped by the powerful presence of the natural world, the echoes of an older, more pagan England, the ancient battle between the forces of light and darkness, and the timeless themes of universal mythology; ritual kingship, the Goddess and the hero-quest as the one true story behind all legends.
That the young hero of
The Ocean at the End of the Lane
should find the Cosmic Ocean in a duckpond on a rundown farm at the end of a rural lane, guarded by the dread Triple Goddess - Maiden, Mother and Crone in the guise of a comfortably down-to-earth farming family - comes as no surprise to me. We fragile, inconsequential humans have always mythologized our lives in order to make sense of a terrifyingly random world beyond our control. And we've always known that reality lies in the perception, Gaiman and I.

The man in the mask swings a sword of bright stars

The cloud of his breath is the shroud of the earth.

But the man in the robe from a book reads our fears,

And ticks off the minutes from death until birth.

The woman in white is the mother of hope,

And the twin doves of peace rest on her twin breasts.

But the woman in black, with a knife and a rope,

Is the watcher at gateway,
the guardian of ghosts.
Henry Treece
(A Gaiman favourite)
NY Times
review
http://www.nytimes.com/2013/06/30/books ... d=all&_r=0
Category: Whatever you want it to be- adult/YA/fantasy/coming-of-age/fairytale/horror story/memoir...