Posted by emr
Can you grow all that hair and keep it without eating?
Apparently, to judge by this picture of Sisi which was her husband's favourite.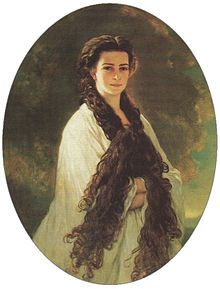 Poor guy - he was besotted by her, but she never really cared for him in "that way". He was supposed to marry her sister Helena, but once he saw Sisi, she was the only one he'd have. At 15 she wasn't anywhere near ready for marriage. Classic obsessive anorexia scenario- unhappy young girl placed in a situation where managing her own appearance was the only way she felt she had of controlling her own life.