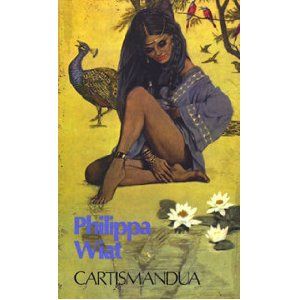 Sensual and amoral, she was bride to one king and lover to another. Seductress of her husband's shield-bearer, she was also a devotee of Rhiannon, the Celtic enchantress who lulled heroes to their doom. The bards spoke of her beauty; of her raven-black hair and unusually white skin, of her features that so closely resembled those of Rhiannon; but would-be lovers were both attracted and repelled by her. Self-seeking, she sought only her own profit and pleasure.

Who was she? Was there some sinister explanation for her affinity with the legendary being who had loved only maidens and her birds of bright plumage?

Queen of the Brigantes in her own right, Cartismandua was co-ruler of the largest of the seventeen kingdoms of Britain at the time of the Roman invasion.
(Book blurb)
First-century Brigantian ruler
Cartismandua
is portrayed as a Thoroughly Bad Lot in Philippa Wiat's sensational tale of a Celtic tribal queen behaving very badly indeed. A cold-hearted
femme fatale
, she's utterly self-absorbed, scheming, and ruthlessly vindictive if thwarted in her desires, whether they be for men or power. Nasty things have a habit of happening to those who cross Cartismandua's will.
So when Cartismandua's charismatic, handsome cousin Caractacus, a prince of the Catuvellauni tribe, refuses her advances and offer to make him King of the Brigantes, you just know there will be tears before bedtime.
But is Cartismandua totally to blame for her wicked ways, or is she possessed by the spirit of a heartless Celtic goddess? (Before there was Melusine, there was Rhiannon)
Written in 1984,
Cartismandua
is very much of its time. Now quite dated, it was written in a style both melodramatic yet surprisingly tame - despite Cartismandua's sultry goings-on, the sex scenes are devoid of any lurid detail. While the basic historical facts are right, don't expect a great deal of historical sensibility. Do expect liberal info-dumping and plenty of turgid dialogue along these lines:
"'Hearken to me, Caractacus', said Cartismandua in her most honeyed tone. `Marry me and I shall make you joint ruler of Northern Brigantia - you would never regret it, I promise you. I have a deep regard for you still, and methinks you are not unmindful of my charms. Marry me, Caractacus, and our eldest son would one day be king of a united Brigantia!"
Verdict: Best read with a good sense of irony. Nostalgia value only, methinks.