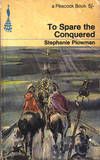 "Be thy charge, O Roman, to guide the nations by thy authority; this shall be thine art, to impose the law of peace, to spare the conquered…"
Virgil, Aeneid, Book VI

This is the axiom young Quintus Valerius Martius carries in his heart when he comes to Britain with the Roman Legions in A.D. 51. But it proves hard to implement. For however noble the Roman generals may be, many of their administrators are corrupt, or stupid, or both. And Boudicca, the bitter vengeful Queen of the Iceni, finds it easy to persuade Britons suffering under heavy taxes to rise against their conquerors.

There follows one of the bloodiest, most destructive periods of Roman-British history. Stirring battles, disastrous defeats, soldiers betrayed by lazy commanders, procurators playing politics, venal merchants caring only for profit, and everywhere the simple peasants suffering and starving while the battle for power rages round them and thousands of Britons and Romans perish in a welter of blood and misery. Only the faith of the young nobleman, the understanding of his comrades, and the courage and intelligence of Flaviola, Boudicca's youngest daughter, hold the promise of a hopeful future.

This is a soldier's tale, evoked by a first-rate historian who is also a brilliant story-teller.
(Book blurb)
Covering the reigns of Roman emperors Caligula, Claudius and Nero,
To Spare the Conquered
is a coming of age story set around the Claudian conquest of Britain in A.D. 43 and Boudicca's rebellion against Roman occupation some seventeen years later.
Quintus has little reason to love Rome. His mother was a Celt, his father the half-Greek Roman commander of the Fourteenth Legion in Mainz. Successful and popular with his troops, he catches the malignant eye of Caligula, always on the lookout for potential usurpers to the throne. Still not much more than a motherless toddler, Quintus is bundled off to safety in Greece with his nurse and one of his father's most trusted men, while his father falls on his sword rather than face the ignominy of a rigged trial and execution in Rome.
Yet it was his father's express wish that Quintus follow his footsteps into the Roman Army. Despite everything, he held the ideal of Rome close to his heart. As he says in the letter he left for his son - "Emperors come and go, but Rome remains". A rather gawky fifteen-year-old, Quintus obediently sets out for Rome, where a fortuitous meeting with Emperor Claudius sees him heading off with the imperial blessing to join the legions in Britannia. Eight years on, Quintus has become a smart, capable and versatile officer and is snapped up as Chief of Staff by Suetonius, Britain's new governor.
To Quintus, the increasing discontent amongst the British, driven to desperation by Roman greed, presents an obvious danger to Britain's vulnerable Roman colonists. Cassandra-like, his warnings fall on deaf ears - complacency and misplaced faith in the superiority of Roman rule are the order of the day. Then suddenly, horribly, it's all much too late…
Author of several historical novels for older chldren published between the 1950s and '70s, Stephanie Plowman's work made little impact outside of a small but dedicated British audience. Her best-known novel is
The Road to Sardis
, a story about Alcibiades and the decline of Athenian democracy.
Plowman's work is in the tradition of twentieth-century female historical novelists like Naomi Mitchison, Bryher, D.K. Broster, and her own contemporaries, Rosemary Sutcliff and Mary Renault. Many of these authors were inspired by a love of the classics to set their works in the ancient world. They share a certain style, and some common elements, as seen here in Plowman's novel, include identification with young male protagonists, military settings and stirring battles, eloquent and evocative use of language, and a high-minded romantic female sensibility which imbues its heroes with integrity and sensitivity and its conquered barbarians with a Noble Savage gloss. Females are rarely more than a peripheral presence. Typically, few female characters feature in
To Spare the Conquered
, and those who do, like Eunice, Quintus' faithful nurse, Boudicca herself and her youngest daughter Flaviola, play relatively minor roles.
So, why did Plowman never achieve the success enjoyed by Sutcliff and Renault, her novels disappear into obscurity?
Firstly, taking
To Spare the Conquered
as an example, if this novel is children's/young adult (or as her work was rather tweely marketed back in the day, "new adult&#8221
, I'll eat my socks. Although well-crafted, this is not a story which will appeal to the average teenager, and wouldn't have even when it first came out - it's too detached and intellectual, densely detailed and full of political and cultural complexities, demanding a level of understanding of ancient history and classical literature only the most academic of teens would possess.
Plowman is quoted as saying, "All [of my books] are`children's books'--the publishers' classification, not mine. I never consciously wrote them as children's books. In fact, it appears to me that a great deal of children's literature appearing now would have been classified as adult stuff if produced before, say, 1939. However, having a naive reverence for publishers' judgments, I did not think of breaking outside the ring fence."
Although she clearly attributes her lack of success to misdirected marketing, it's easy to see the dilemma a publisher would have faced in categorizing Plowman's work.
To Spare the Conquered
is neither fish nor fowl. While too esoteric for the teenage reader, it lacks the emotional depth and maturity required for adult fiction.
Plowman shares the ability of Sutcliff and Renault to engage the reader with time and place, but crucially, there is no point of connection with the characters, who come across as flat and one-dimensional. Many of the story's major historical personages appear almost in caricature - Suetonius, the gloryhound general and obtuse, stiff-necked governor; Decianus, the avaricious, weaselly Roman procurator; Boudicca, the rabid barbarian queen, literally frothing at the mouth. As for our hero, Quintus, we are told that he is clever, caring, noble by nature, personable and able to relate readily to men of many different races and stations in life, but where is the convincing charisma, compelling personality and presence such a paragon must surely possess? Unfortunately all we see is a well-meaning prig, a stuffed
tunica
with an irritating habit of always knowing better than anyone else. He is a curiously nebulous figure, the embodiment of an ideal rather than a real, living, breathing person we can relate to.
To Spare the Conquered
is a dark tale, broodingly atmospheric and pregnant with an impending sense of disaster, a vivid picture of Roman Britain in the first century A.D. It's clearly of its time, but in style still fresh and lucid, written by an author very much at home with her subject and period. Technically, Plowman's writing skills can't be faulted. This novel has all the outward trappings of a great story but because it lacks that vital rapport between reader and characters which is the very heart of story, it falls frustratingly just short of becoming something more than an accomplished account of the Boudiccan Rebellion. This wasn't the first of Plowman's novels to be published, but it's not a surprise to learn that, "the idea for 'To Spare the Conquered' came to her while she was still at school, and she wrote the first version of it during her first year at college".
To Spare the Conquered
has the feel of a work written by an unworldly, romantically-inclined young scholar, and I think it telling that "shy, bookish", classically educated young Flaviola is the only character portrayed with any real conviction.
Verdict: First-rate historian? Yes. Brilliant story-teller? In this case, so near and yet so far.
To Spare the Conquered
was first published as a hardback by Methuen in 1960, and issued in paperback by Peacock (a Penguin imprint) in 1965.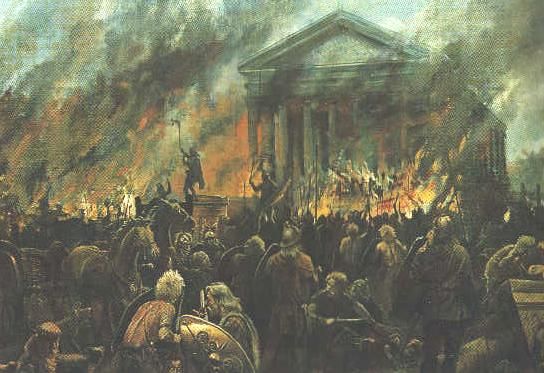 Artist: Peter Frewe.
Sack of the Temple of Claudius in Roman Colchester by Boudicca's rebels.
Note the Briton with his carnyx standing on the pedestal to the left - we had a discussion about carnyces earlier
here