This handsome kitty is Ru. He started coming around last year. At first, we thought he was a she, because he was so shy he'd run whenever he saw us, and we couldn't get a good look to see what gender he was. So we started calling him Ru, as in RuPaul.
Finally, a can of gooshy food got him to warm up to us, and we found out what a love he is. When the weather turned cold, Ru invited himself in, and after a bit of hissing and adjusting, has made friends with Molly.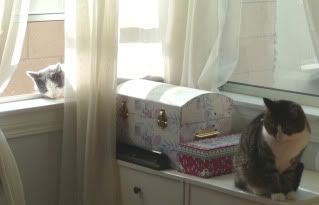 When we tried to collar him, he kept coming home without his collar. We finally attached a note to the third collar asking that it stay on, so that Animal Control wouldn't pick him up. Turns out he had people, and his name was Trouble. I still call him Ru.
He never goes home, but wants to be where we are. I finally went to his people to ask if they would let us have him. Turns out his people had a new baby and, though they say otherwise, didn't really want him. Well, we want him.
Ru likes his kibble crunchy and his water straight up from the toilet. If you try to go to that toilet, he will follow you to find out what you're doing in his watering hole. He also likes being outside with us and gardening.