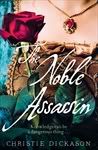 A historical romance featuring Jacobean courtier Lucy, Countess of Bedford, and the poet John Donne,
Noble Assassin
is in set in early 17th century England. Despite doing the metaphysical poets at school, it's not a period I'm all that familiar with and had barely heard of Prince Henry, the king's heir and England's hope for a vigorous Protestant warrior-prince. Unfortunately he died at eighteen, leaving the less popular Charles as successor to the throne. Henry's legacy, though, significantly influences events in
Noble Assassin
. I found Dickason's novel not only beautifully written and a touching love story, but a very interesting picture of the politics, religious conflicts and intrigues of the Jacobean era. Dickason even manages to touch upon the origins of the Thirty Years' War in Europe and England's Civil Wars so subtly that the reader remains pretty much unaware of what she's doing.
Although women like Lucy had access to power and political influence through placement in Anne of Denmark's household, it's possible to see in the gradual adoption of James I's misogynistic attitudes a foreshadowing of the way women would be regarded and treated by the fundamentalist Puritans. Anything smacking of petticoat government (and good old Queen Bess) was swept aside and women put firmly back in their "rightful" place. Certainly the style of classical education Renaissance princesses such as Queen Elizabeth received and made fashionable for daughters of the nobility like Lucy Harington became subject to the deepest suspicion.
Lucy is an interesting character, and not everyone will take to her, though from what I've read in the way of biographical material, Dickason has portrayed her pretty accurately. She can be impulsively generous and loyal, but is also rather self-centred, capricious, vain and ambitious, with an eye for the main chance. Preferment at court was not just a matter of prestige, but also brought with it substantial income, something which Lucy, with her many expensive projects, always needed more of. In some ways she's quite a sharp-edged character, but Dickason gives her a vulnerability which makes her more sympathetic. All her life has been about being dutiful – first as a daughter, then as wife to a man with whom she shares only mutual antipathy. I imagine her rather as a prism - multi-faceted and refracting light to dazzle so that others can't see her true, softer self tucked away inside - the self that longs for the love and approval of a kindred spirit.
The combination of the intellectual and the frivolous that characterizes Lucy seems to have been very much the tone of James I's court, especially in the early days. James himself was a fascinating character- clearly damaged by his experiences and upbringing. When he was a young boy he was apparently made to repeat something along the lines of "My mother is a Popish whore' – not too surprising that he grew up conflicted about women! Several assassination attempts exacerbated his paranoia. He was deceptively louche, being in fact intelligent and learned, but convinced (not always with justification) that he knew best.
While reading this book I became intrigued by the
masque
, a very Renaissance form of courtly performance art in which courtiers, both male and female, took part. Anne of Denmark and her ladies (including Lucy) participated in several which were devised for the king's entertainment in the years before Anne fell prey to illness. With their magnificent costumes and settings they were ruinously expensive to produce - no wonder the Jacobean court was criticised for its extravagance.
The Masque of Beauty
alone was said to have cost £4000. According to Wikipedia the House of Stuart was running an annual budget deficit of £140,000 in this era so the cost of this one masque represented about 3% of the annual deficit, an enormous sum to spend on a single event.
I found it useful to read Dickason's earlier novel
The King's Daughter
in conjunction with
Noble Assassin
.
King's Daughter
is about the young Elizabeth Stuart up till her marriage to Frederick V, Elector Palatine, and covers her inadvertent role in the Gunpowder Plot. The conspirators planned to use Elizabeth as a puppet queen if they'd succeeded in killing King James and his heir Prince Henry as intended. Prince Henry also plays a major role in
King's Daughter
and it's interesting to speculate how events would have fallen out if he hadn't died so young. Dickason's opinion is that there wouldn't have been civil war in England, but that England would have become heavily embroiled in the wars of religion on the Continent. Both books are standalones, but it's instructive to read them together. Lucy makes an appearance in
King's Daughter
and the older Elizabeth plays a significant part in
Noble Assassin
. In some ways Elizabeth is a warmer, more likeable character than Lucy, who has a pricklier, more complex personality.
Noble Assassin
was shortlisted for the UK Romantic Novelists' Association Awards for 2012, in the Historical Romantic Novel category (won by Christina Courtenay for
Highland Storms
).
Those familiar with Donne's poetry will recognize the pivotal riverbank tryst between Lucy and Donne from his poem,
The Ecstasy
- I've linked to it in my review at the
Historical Novels Info
website here:
http://www.historicalnovels.info/Noble-Assassin.html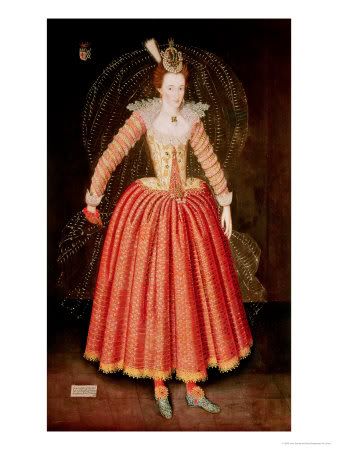 Lucy Russell, Countess of Bedford in masque costume.
For anyone wanting to know about Lucy and her role at the Jacobean court in more depth, it's worth reading Barbara Lewalski's essay
Lucy, Countess of Bedford: Images of a Jacobean Courtier and Patroness
in the book
Politics of Discourse
, ed. by Kevin Sharpe and Steven N. Zwicker.
See
Chapter 4- full text available here on Google Books
.