A one-off, though linked to Cameron's
Tyrant
series, this is the fictional "true" story of Alexander the Great as told by astute and canny Ptolemy, the great survivor (as far as I can remember, the only one of Alexander's close companions and generals who managed to die of old age). Ptolemy did in fact write a long-lost history of Alexander's campaigns said to have been notable for its objectivity and lack of hagiography, and perhaps the inspiration for this novel. Cameron captures Ptolemy's voice perfectly - tough, shrewd, genuinely congenial and likeable, but pragmatic and not above a spot of self-aggrandizement (Ptolemy was accused of talking up his own role in the History he wrote, but Alexander's Macedonian Companions didn't get where they did by being shrinking violets). So, even though Alexander is the pivotal character, the charismatic, dazzling figure around which all events revolve, the main protagonist of
God of War
is its narrator, Ptolemy.
Cameron excels in world-building and great characterization and yet again this shows up as his strength. I particularly enjoyed the inclusion of the Athenian hetaera Thaïs as a strong female character, and the development of her relationship with Ptolemy. I could even accept their marriage during the Rev.Moon Mass Marriage-style ceremony at Susa where Alexander compulsorily united his Macedonians with Persian women, even though we don't actually know if Ptolemy ever did marry Thaïs (there is also the small problem of Ptolemy's Persian bride, Artacama). It makes for a wonderfully romantic touch nonetheless.
There's a reason why authors often choose to break up the story of Alexander's campaigns into several volumes - they can be almost as gruelling for the reader as they were for Alexander's army. Cameron does well in keeping the reader involved and the pace going the full distance.
God of War
is necessarily a military adventure and as well as great battles Cameron gives us a fascinating glimpse into the nuts and bolts of the machinery behind Alexander's conquests - campaign tactics, troop dispositions, the running of a sophisticated intelligence network and the exigencies of supplying Alexander's increasingly vast and fragmented enterprise.
The odds are always stacked against a historical novelist tackling the subject of Alexander the Great. Firstly, how do you portray a man who was a legend in his own lifetime and has remained one ever since? Secondly, over the years Mary Renault's
Fire From Heaven
has become by default the received fictional version of Alexander's life and times, and any new portrayal will inevitably face critical comparison. However, Renault's work, though magnificent, is not without bias - her vision of Alexander is hyper-romantic and steeped in hero-worship. Cameron's Alexander is the antithesis; he's often shown as a monster - a megalomaniac, vain and vengeful. He is both a man but also something other; superhuman yet inhuman. As seen through Ptolemy's eyes Alexander is not so much insane (gods-touched), as godlike in the manner of the Greek gods, who walked among men, playing careless games with mortals' lives for their own amusement yet demanding the adulation due a divinity. I personally find this different viewpoint refreshing - I don't think there will ever be a "definitive" fictional Alexander, and it's always good to challenge stereotypes. By taking an oblique approach in using the persona of Ptolemy, Cameron avoids some of the issues involved in making Alexander the hero of a novel. And Ptolemy, son of Lagus and King of Aegypt, would be the first to remind us that this is, after all, his story.
The savage internecine struggle for power between Alexander's generals known as the Wars of the Diadochi or Successors provides the background for most of Cameron's
Tyrant
series. Anyone wanting to know how things played out for for Ptolemy after Alexander's death can't go past Mary Renault's
Funeral Games
for an excellent overall picture of this struggle.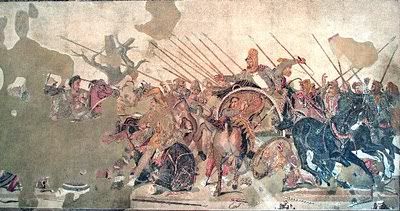 The
Alexander mosaic
found at Pompeii - the cover of Cameron's novel was clearly inspired by this work.