Given the season, I was inspired to read Norah Lofts' retelling of the Nativity, which I've been meaning to get around to for years. She doesn't deviate from the King James version of the Gospels of Luke and Matthew which were clearly her foundation, and miraculous events like the Annunciation are treated as real. The difference lies in Lofts' ability to turn the stiff little figures seen in Nativity dioramas into living, breathing people with their anxieties, hopes and dreams. Using the storyteller's art, she recreates their everyday lives so vividly and with such empathy that
How Far to Bethlehem?
is genuinely moving, even for a cynic like me.
Those familiar with the Bible (all those Sunday School lessons did come in handy) will appreciate the biblical allusions, the appearance of secondary characters who will become significant in Jesus' later life and the references that foreshadow his fate. I don't feel that the reading experience of those not familiar with the Bible would be affected, though - the story works well in its own right just as a historical novel.
One thing modern readers will miss is the sort of historical and/or author's note we've become accustomed to, but which historical novelists of the past didn't feel any need to add. Lofts readily mixes real historical events and places with fictional ones – you won't find the city of Jexel on Google, for example. It seems to be a composite created along the lines of Babylon or Persepholis. Nor will you find the rose jekkel, a gold coin whose recurring image appears throughout the story. My guess is that it was based on the gold staters which would have spread around the Middle East during the period when Alexander the Great's Macedonian successors ruled in Persia and Egypt. Given Lofts' use of allusion in this book, I think it likely the fictional rose jekkel is a homage to Mary, one of whose later titles was "Rosa Mundi" (rose of the world).
Recommended for anyone feeling the need for a bit of genuine Christmas spirit.
Review at
Historical Novels info
:
http://www.HistoricalNovels.info/How-Fa ... lehem.html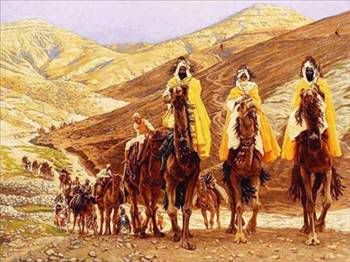 The Journey of the Magi
Tissot