Those who pick up this novel expecting the sort of rousing martial adventure usually associated with the name Achilles will be in for a shock. This is a same-sex love story; achingly tender and as fraught with fate as that of Romeo and Juliet.
Patroclus is used to being a disappointment. His father is "a king and the son of kings", but his son is scrawny and unprepossessing: "I was not fast. I was not strong. I could not sing". The ideal son is like handsome, talented Achilles, a boy his own age who takes the winner's garland at the games held by Patroclus' father. "His father comes to claim him, smiling and proud. My own father watches in envy. He turns to me. 'That is what a son should be.' I watch King Peleus embrace his son. I see the boy toss the garland in the air, and catch it again. He is laughing, and his face is bright with victory."
Little wonder that when he's exiled to King Peleus' court at the age of ten, Patroclus bitterly resents charismatic, golden-haired Achilles with his preternatural skills and admiring sycophants. No one is more surprised than Patroclus when Achilles chooses him as his companion. Achilles recognizes a kindred-spirit, he too is lonely - who can a prince trust? As their cautious alliance develops into true friendship, Patroclus blossoms; for the first time in his life he has someone who values him, cares about him. The two grow up together, inseparable, and during three carefree years spent studying in isolation with the wise centaur Chiron, they become lovers as well as friends. But inevitable war with Troy brings an end to their idyll, and Patroclus must watch his soul-mate fulfill his implacable destiny as "the greatest warrior of his generation". Their love remains steadfast, though as Achilles grows increasingly ruthless and iron-hearted, it will be tested. Patroclus recalls Odysseus' warning words: "He is a weapon, a killer. Do not forget it. You can use a spear as a walking stick, but that will not change its nature."
There is no sense of fantasy about Miller's Bronze Age world. That gods walk among men is a reality taken as a given, if an unnerving and sometimes terrifying one.
The Song of Achilles
is a gem of a story, luminous and engaging, written with spare elegance and a heart-breaking ending which had me sniffling on cue. I loved it, but (and here I step into politically incorrect territory), I would - I'm a woman. Women will adore this tale. Irrespective of the gender of the lovers, it's pure, classic romance of the all-consuming sort which tragedy makes deathless - a love that time will never reduce to a state of comfortable mediocrity.
Did it ring true for me? Not with total conviction. Miller's Patroclus is thoughtful and caring, a healer. He has no inclination or aptitude for fighting and avoids it where possible. Let's face it, however disarming, he's frankly a bit of a nerd, a sensitive New Age Achaean. I had difficulty reconciling him with the image I take from the
Iliad
of a companion who is sword-brother as well as heart-brother. Can I see this Patroclus donning Achilles' armour and flying into a battle frenzy, killing all in his path and attacking the very walls of Troy? Not really. Maybe I have to believe that he has stepped out of character at the will of the gods so that events can fall as predicted? The wonderful thing about the great, enduring stories like the
Iliad
is that they can be endlessly reinvented and interpreted in fresh ways. This is a very different vision, the quintessentially masculine world of the
Iliad
seen through the soft-focus lens of a romantic female sensibility; compelling, but at times disconcertingly alien.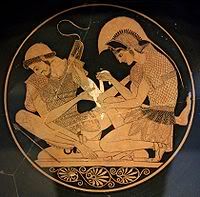 Achilles tends a wounded Patroclus