Welcome to the Historical Fiction Online forums: a friendly place to discuss, review and discover historical fiction.
If this is your first visit, please be sure to check out the
FAQ
by clicking the link above.
You will have to register before you can post: click the
register
link above to proceed.
To start viewing posts, select the forum that you want to visit from the selection below.
You are welcome.

Gallows humor.

If we cannot laugh, we cry.
Bodo the Apostate
, a novel set during the reign of Louis the Pious and end of the Carolingian Empire.
http://www.donaldmichaelplatt.com
http://www.youtube.com/watch?v=RXZthhY6 ... annel_page
---
The term gallows humor was in my thoughts on the way to work today - the six month extension due date for personal tax returns is just a week away. I wonder what kind of wild tax season I'll be in for in a few months - our firm typically prepare returns for clients with lots of market trading activity and I think I'll probably see some scary stuff in some year end statements. I really feel for the people planning on retiring in the next few years.
---
Bibliophile
Posts: 1462
Joined: August 2008
Interest in HF: I love history, but it's boring in school. Historical fiction brings it alive for me.
Preferred HF: Iron-Age Britain, Roman Britain, Medieval Britain
Location: New Orleans
Contact:
I find it ironic that the very government who has their job at our discretion (surely someone in Washington D.C. remembers the the government is by the People and for the People) ridicule one another about worrying about 'saving their jobs' rather than voting to go along with this bailout.

We elect politicians and essentially they work for

us

. In normal business settings, don't employees get fired for doing whatever they want rather than what their boss wants? I know if I went into work one day and either of my bosses told me to do something and rather than doing it I just sat back and read a book all day, they'd tell me to take a hike.

What I would like to see happen, but I know will never realistically happen, is for those who voted for the bailout package initially and criticised the nay-sayers for voting no out of fear or losing their jobs, be impeached. Unless of course their term ends in November. Then we can just vote them all out of office.

Here in Louisiana, the governor was going to sign into legislation a pay-raise for part-time idiots in office. When the word impeachment was floated around, his tune changed.

I've completely lost faith in the federal government and the local government here in Louisiana too, even though our current governor seems okay for the most part. I will not be voting in this election.
Edited to add this photo I just saw on Yahoo of a Zero Dollar bill...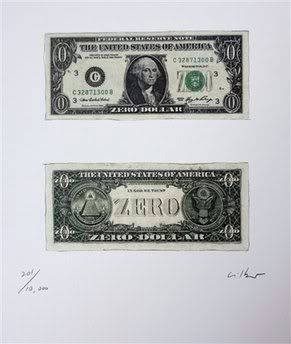 Last edited by
Rowan
on Thu October 9th, 2008, 4:28 pm, edited 1 time in total.
---
I don't think there is any short term fix that can be done. The only long term fix that I can see is needed, is to somehow get everyone in our USA to see that there is a major over population in this country, and see if the tide can be turned to decrease our size. I wish when I was young that I would have been smarter and only had 1 maybe 2 kids but I am part of the problem having 5. In Arizona alone we have increased to the point that our agriculture is being pushed down to Mexico and South America. Just 5 years ago we had 5 inspectors for fruits and vegetables we are down to 1 inspector because we have no more farmlands. They have been given up for housing. When will the people of America ever learn. I honestly don't believe we have had a president that has cared for the country since Abe Lincoln. It is all about money and glory now. Another thing that kind of eats at me is how many houses does one person or family need? How many movie stars or richer people in general have at least two homes maybe as many as 5. Then they sell for a higher price and push the market value up so high that the regular people have to pay $300,000 for a house that is only worth $75,000. So the unfortunate lower middle class can't afford to buy a nice house for their family and look to the easy lenders to help them have a home to support their family. Whew glad I got that off my chest.
Last edited by
Hoopking
on Fri November 7th, 2008, 8:19 pm, edited 3 times in total.
---
The government bailout, is only a bandaid solution to the economic problem. Which is so much huger than just the US, it is actually a global economic problem, as the world stock market is so intertwined. I heard on the news that they are now turning to the UN to find a solution, as it is too big of a problem for any one nation.
Only the pure of heart can make good soup.
-
Beethoven
---