Dark Angel
, Mika Waltari's haunting, passionate 1952 novel about the siege and fall of Christian Constantinople to the Turks in 1453, is one of my favourites (see
review here
.) I've often wondered why the literary potential of this apocalyptic event hadn't attracted the attention of modern historical novelists. Well, now it has!
A Place Called Armageddon
is the best novel CC Humphreys has written to date in my opinion, a well-researched and fast-paced historical adventure with plenty of action and intrigue and a touch of the occult.
The story is told from multiple points of view, encompassing both the Turks and the beleaguered Byzantine Greeks with their pitifully few Genoese and Venetian mercenary allies. The central characters providing the human interest are well-drawn and believable personalities, though the scale and pace of the story doesn't lend itself to heavy-duty character development or introspection. They serve as focal points, bringing cohesion to a drama which literally has a cast of thousands, and Humphreys also uses them to fill in background detail which the reader needs to be aware of in order to make sense of the conflict. In his
Royalty Free Fiction
blog post he says, "I don't like to give history lessons in my novels. But to understand the characters you need to understand their context – religious, social, military, political. I found men and women who would lead me into all those areas and tell the readers what they needed to know because they needed to know it".
I've been wishing I hadn't recently re-read
Dark Angel,
though, as comparisons are inevitable and the two novels echo each other in places- not too surprising when both authors clearly used the same contemporary chronicles as source material. Nonetheless, once I got over that, I thoroughly enjoyed Humphreys' compelling, fresh version which brings the dramatic story of this pivotal event to vivid life for today's readers.
A Place Called Armageddon
is well supported by maps, glossary, a Historical Note and an Author's Note.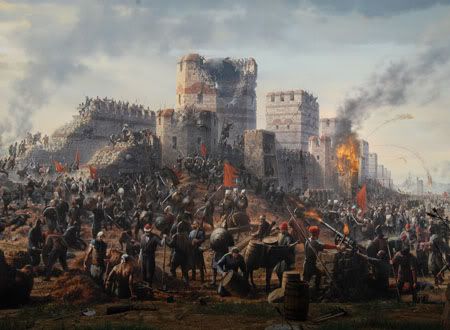 CC Humphreys'
Royalty Free Fiction
blog post about
A Place Called Armageddon
:
http://royaltyfreefictionary.blogspot.c ... hreys.html