Voting will close on
25 September
.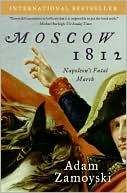 Moscow 1812: Napoleon's Fatal March by Adam Zamoyski
Napoleon dominated nearly all of Europe by 1810, largely succeeding in his aim to reign over the civilized world. But Britain eluded him. To conquer the island nation, he needed Russia's Tsar Alexander's help. The Tsar refused, and Napoleon vowed to teach him a lesson by intimidation and force. The ensuing invasion of Russia, during the frigid winter of 1812, would mark the beginning of the end of Napoleon's empire. Although his army captured Moscow after a brutal march deep into hostile territory, it was a hollow victory for the demoralized troops. Napoleon's men were eventually turned back, and their defeat was a momentous turning point in world affairs. Dramatic, insightful, and enormously absorbing, Moscow 1812 is a masterful work of history. (704 pages)
Georgiana: Duchess of Devonshire by Amanda Foreman
***Recently re-released as The Duchess***
The winner of Britain's prestigious Whitbread Prize and a bestseller there for months, this wonderfully readable biography offers a rich, rollicking picture of late-eighteenth-century British aristocracy and the intimate story of a woman who for a time was its undisputed leader.
Lady Georgiana Spencer was the great-great-great-great-aunt of Diana, Princess of Wales, and was nearly as famous in her day. In 1774, at the age of seventeen, Georgiana achieved immediate celebrity by marrying one of England's richest and most influential aristocrats, the Duke of Devonshire. Launched into a world of wealth and power, she quickly became the queen of fashionable society, adored by the Prince of Wales, a dear friend of Marie-Antoinette, and leader of the most important salon of her time. Not content with the role of society hostess, she used her connections to enter politics, eventually becoming more influential than most of the men who held office.
Her good works and social exploits made her loved by the multitudes, but Georgiana's public success, like Diana's, concealed a personal life that was fraught with suffering. The Duke of Devonshire was unimpressed by his wife's legendary charms, preferring instead those of her closest friend, a woman with whom Georgiana herself was rumored to be on intimate terms. For over twenty years, the three lived together in a jealous and uneasy ménage à trois, during which time both women bore the Duke's children—as well as those of other men.
Foreman's descriptions of Georgiana's uncontrollable gambling, all- night drinking, drug taking, and love affairs with the leading politicians of the day give us fascinating insight into the lives of the British aristocracy in the era of the madness of King George III, the American and French revolutions, and the defeat of Napoleon.
A gifted young historian whom critics are already likening to Antonia Fraser, Amanda Foreman draws on a wealth of fresh research and writes colorfully and penetratingly about the fascinating Georgiana, whose struggle against her own weaknesses, whose great beauty and flamboyance, and whose determination to play a part in the affairs of the world make her a vibrant, astonishingly contemporary figure. (512 pages)
Marie-Therese, Child of Terror: The Fate of Marie Antoinette's Daughter by Susan Nagel
The first major biography of one of France's most mysterious women—Marie Antoinette's only child to survive the revolution.
Susan Nagel, author of the critically acclaimed biography Mistress of the Elgin Marbles, turns her attention to the life of a remarkable woman who both defined and shaped an era, the tumultuous last days of the crumbling ancien régime. Nagel brings the formidable Marie-Thérèse to life, along with the age of revolution and the waning days of the aristocracy, in a page-turning biography that will appeal to fans of Antonia Fraser's Marie Antoinette and Amanda Foreman's Georgiana: Duchess of Devonshire.
In December 1795, at midnight on her seventeenth birthday, Marie-Thérèse, the only surviving child of Marie Antoinette and Louis XVI, escaped from Paris's notorious Temple Prison. To this day many believe that the real Marie-Thérèse, traumatized following her family's brutal execution during the Reign of Terror, switched identities with an illegitimate half sister who was often mistaken for her twin. Was the real Marie-Thérèse spirited away to a remote castle to live her life as the woman called "the Dark Countess," while an imposter played her role on the political stage of Europe? Now, two hundred years later, using handwriting samples, DNA testing, and an undiscovered cache of Bourbon family letters, Nagel finally solves this mystery. She tells the remarkable story in full and draws a vivid portrait of an astonishing woman who both defined and shaped an era. Marie-Thérèse's deliberate choice of husbands determined the map ofnineteenth-century Europe. Even Napoleon was in awe and called her "the only man in the family." Nagel's gripping narrative captures the events of her fascinating life from her very public birth in front of the rowdy crowds and her precocious childhood to her hideous time in prison and her later reincarnation in the public eye as a saint, and, above all, her fierce loyalty to France throughout. (448 pages)

A Voyage Long and Strange: Rediscovering the New World by Tony Horwitz
On a chance visit to Plymouth Rock, Tony Horwitz makes an unsettling discovery. A history buff since early childhood, expensively educated at university—a history major, no less!—he's reached middle age with a third-grader's grasp of early America. In fact, he's mislaid more than a century of American history, the period separating Columbus's landing in 1492 from the arrival of English colonists at Jamestown in 160-something. Did nothing happen in between?
Horwitz decides to find out, and in A Voyage Long and Strange he uncovers the neglected story of America's founding by Europeans. He begins a thousand years ago, with the Vikings, and then tells the dramatic tale of conquistadors, castaways, French voyageurs, Moorish slaves, and many others who roamed and rampaged across half the states of the present-day U.S. continent, long before the Mayflower landed.
To explore this history and its legacy in the present, Horwitz embarks on an epic quest of his own—trekking in search of grape-rich Vinland, Ponce de León's Fountain of Youth, Coronado's Cities of Gold, Walter Raleigh's Lost Colonists, and other mysteries of early America. And everywhere he goes, Horwitz probes the revealing gap between fact and legend, between what we enshrine and what we forget.
An irresistible blend of history, myth, and misadventure, A Voyage Long and Strange allows us to rediscover the New World for ourselves. (464 pages)
Who Cooked the Last Supper?: The Women's History of the World by Rosalind Miles
Men dominate history because men write history. There have been many heroes, but no heroines. This is the book that overturns that "phallusy of history," giving voice to the true history of the world — which, always and forever, must include the contributions of millions of unsung women. Here is the history you never learned — but should have!
Without politics or polemics, this brilliant and witty book overturns centuries of preconceptions to restore women to their rightful place at the center of culture, revolution, empire, war, and peace. Spiced with tales of individual women who have shaped civilization, celebrating the work and lives of women around the world, distinguished by a wealth of research, Who Cooked the Last Supper? redefines our concept of historical reality. (352 pages)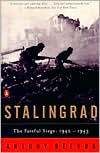 Stalingrad, The Fateful Siege, 1942-1943 by Antony Beevor
This gripping history is the definitive account of the battle that shifted the tide of World War II.
Historians and reviewers worldwide have hailed Antony Beevor's magisterial Stalingrad as the definitive account of World War II's most harrowing battle. In August 1942, Hitler's huge Sixth Army reached the city that bore Stalin's name. In the five month siege that followed, the Russians fought to hold Stalingrad at any cost, then caught their Nazi enemy in an astonishing reversal.
As never before, Stalingrad conveys the experience of soldiers on both sides as they fought in inhuman conditions, and of civilians trapped on an urban battlefield. Antony Beevor has interviewed survivors and discovered completely new material in a wide range of German and Soviet archives, including reports of prisoner interrogations, desertions, and executions. The battle of Stalingrad was the psychological turning point of World War II; as Beevor makes clear, it also changed the face of modern warfare. As a story of cruelty, courage, and human suffering, Stalingrad is unprecedented and unforgettable.
"A fantastic and sobering story . . . fully and authoritatively told." -Richard Bernstein, The New York Times(560 pages)
Born to Rule: Five Reigning Consorts, Granddaughters of Queen Victoria by Julia Gelardi
Julia Gelardi's Born to Rule is the powerful epic story of five royal granddaughters of Queen Victoria, who reigned over the end of their empires, the destruction of their families, and the tumult of the twentieth century
Here are the stories of Alexandra, whose faith in Rasputin and tragic end have become the stuff of legend; Marie, the flamboyant and eccentric queen who battled her way through a life of intrigues and was also the mother of two Balkan queens and of the scandalous Carol II of Romania; Victoria Eugenie, Spain's very English queen who, like Alexandra, introduced hemophilia into her husband's family---with devastating consequences for her marriage; Maud, King Edward VII's daughter, who was independent Norway's reluctant queen; and Sophie, Kaiser Wilhelm II's much maligned sister, daughter of an emperor and herself the mother of no less than three kings and a queen, who ended her days in bitter exile.
Using never before published letters, memoirs, diplomatic documents, secondary sources, and interviews with descendents of the subjects, Julia Gelardi's Born to Rule is an astonishing and memorable work of popular history. (496 pages)
The Suspicions of Mr. Whicher: Murder and the Undoing of a Great Victorian Detective by Kate Summerscale

The dramatic story of the real-life murder that inspired the birth of modern detective fiction.
In June of 1860 three-year-old Saville Kent was found at the bottom of an outdoor privy with his throat slit. The crime horrified all England and led to a national obsession with detection, ironically destroying, in the process, the career of perhaps the greatest detective in the land.
At the time, the detective was a relatively new invention; there were only eight detectives in all of England and rarely were they called out of London, but this crime was so shocking, as Kate Summerscale relates in her scintillating new book, that Scotland Yard sent its best man to investigate, Inspector Jonathan Whicher.
Whicher quickly believed the unbelievable—that someone within the family was responsible for the murder of young Saville Kent. Without sufficient evidence or a confession, though, his case was circumstantial and he returned to London a broken man. Though he would be vindicated five years later, the real legacy of Jonathan Whicher lives on in fiction: the tough, quirky, knowing, and all-seeing detective that we know and love today…from the cryptic Sgt. Cuff in Wilkie Collins's The Moonstone to Dashiell Hammett's Sam Spade.
The Suspicions of Mr. Whicher is a provocative work of nonfiction that reads like a Victorian thriller, and in it Kate Summerscale has fashioned a brilliant, multilayered narrative that is as cleverly constructed as it is beautifully written. (384 pages)

The Making of Victorian Sexuality by Michael Mason
The Making of Victorian Sexuality directly confronts one of the most persistent cliches of modern times. Drawing on an exceptionally wide range of evidence about nineteenth-century behaviour and opinion - from modern demographic analysis to the travel writing of foreign visitors, and from popular medicine to Malthusian polemic - Michael Mason shows how much of our perception of nineteenth-century sexual culture is simply wrong. Far from being a licence for prudery and hypocrisy, Victorian sexual moralism is shown to be in reality a code intelligently embraced by wealthy and poor alike as part of a humane and progressive vision of society's future. The average Victorian man, for example, was not necessarily the church-going, tyrannical, secretly lecherous, bourgeois pater familias of modern-day legend, but often an agnostic, radical-minded, sexually continent citizen, with a deliberately restricted number of children. The Making of Victorian Sexuality is a timely disruption of our present comfortable consensus on nineteenth-century society. Moreover, it persuasively argues that in Victorian sexual moralism, there may be much to teach the complacently libertarian twentieth century. (348 pages)
Son of the Morning Star: Custer and the Little Bighorn by Evan S Connell
Custer's Last Stand is among the most enduring events in American history--more than one hundred years after the fact, books continue to be written and people continue to argue about even the most basic details surrounding the Little Bighorn. Evan S. Connell, whom Joyce Carol Oates has described as "one of our most interesting and intelligent American writers," wrote what continues to be the most reliable--and compulsively readable--account of the subject. Connell makes good use of his meticulous research and novelist's eye for the story and detail to re-vreate the heroism, foolishness, and savagery of this crucial chapter in the history of the West. (448 pages)

Murder of a Medici Princess by Caroline P. Murphy
In Murder of a Medici Princess, Caroline Murphy illuminates the brilliant life and tragic death of Isabella de Medici, one of the brightest stars in the dazzling world of Renaissance Italy, the daughter of Duke Cosimo I, ruler of Florence and Tuscany.
Murphy is a superb storyteller, and her fast-paced narrative captures the intrigue, the scandal, the romantic affairs, and the violence that were commonplace in the Florentine court. She brings to life an extraordinary woman, fluent in five languages, a free-spirited patron of the arts, a daredevil, a practical joker, and a passionate lover. Isabella, in fact, conducted numerous affairs, including a ten-year relationship with the cousin of her violent and possessive husband. Her permissive lifestyle, however, came to an end upon the death of her father, who was succeeded by her disapproving older brother Francesco. Considering Isabella's ways to be licentious and a disgrace upon the family, he permitted her increasingly enraged husband to murder her in a remote Medici villa. To tell this dramatic story, Murphy draws on a vast trove of newly discovered and unpublished documents, ranging from Isabella's own letters, to the loose-tongued dispatches of ambassadors to Florence, to contemporary descriptions of the opulent parties and balls, salons and hunts in which Isabella and her associates participated. Murphy resurrects the exciting atmosphere of Renaissance Florence, weaving Isabella's beloved city into her story, evoking the intellectual and artistic community that thrived during her time. Palaces and gardens in the city become places of creativity and intrigue, sites of seduction, and grounds for betrayal.
Here then is a narrative of compelling and epic proportions, magnificent and alluring, decadent and ultimately tragic. (397 pages)