Welcome to the Historical Fiction Online forums: a friendly place to discuss, review and discover historical fiction.
If this is your first visit, please be sure to check out the
FAQ
by clicking the link above.
You will have to register before you can post: click the
register
link above to proceed.
To start viewing posts, select the forum that you want to visit from the selection below.
Bibliomaniac
Location: Vashon, WA
Contact:
So much for cows being docile cud chewing animals!

SM
---
Bibliomaniac
I am sure I would have been freaking out!
---
Bibliophile
Location: Ciinaminson NJ
Rain, rain go away....come back another day.....house bound with four active Australian Shepherds.....And they won't let me read.....
---
Scribbler
Location: Louisiana
Waking up with a sinus headache
---
Bibliomaniac
Location: Vashon, WA
Contact:
We've been without a working furnace for 2 to 3 years now. Our landlady finally agreed to getting a new one, and on Dec 17th we had some guys here to clean out a bunch of junk so the heating guys could come in and dismantle the old one and put a new one in. Then the snow and cold hit and they couldn't get here.

Yesterday they started to work on it, but then the rain hit and our basement now has a bunch of standing water in it! The guy here said they'll check on it tomorrow but probably nothing will be done till Monday or when the water recedes from the basement, SIGH!

If it's not one thing it's another!

SM
---
Compulsive Reader
Location: Southern California
This morning I put my 11 yr old cat to sleep. He had a bad heart since he was a kitten and the last few months he has just gotten worse. Despite being on meds he developed a clot and one of his legs was paralyzed. But he's at peace now!! I'm so devastated but at the same time I know it was the right thing to do. RIP, Zazu, my sweet boy!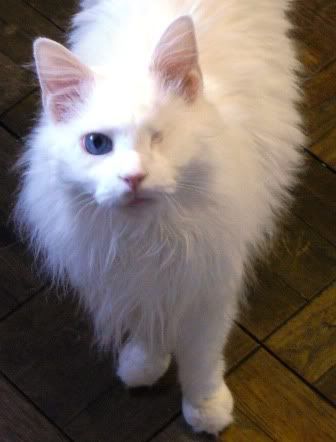 Books to the ceiling,
Books to the sky,
My pile of books is a mile high.
How I love them! How I need them!
I'll have a long beard by the time I read them.
--Arnold Lobel
---
Bibliophile
Contact:
Oh my gosh, my heart is breaking for you LCW. I know what you're going through and I'm so, so sorry.
---
Bibliomaniac
Location: Wisconsin, USA
Contact:
So sorry for you LCW. I once had a cat with one eye. Called her my pirate kitty.

My worst thing is having a lot of trouble with my autistic 5 year old who is big for his age, and can't get a hold of the doctor. I'm getting really good at leaving messages.
---
Bibliomaniac
Location: Nottingham UK
Contact:
So sorry to hear about your kitty LCW - 11yrs old is young for a cat isn't it?
He certainly looked like a character. What a beautiful blue eye!
LoveHistory - thoughts go out to you re your son. Hope you can get the support you need.
Me - not going to be around much for a few days. Just work. My server decided to upgrade their customer service and managed to shut down my Elizabeth Chadwick Account. Then in the process of re-activating, via a call centre in India, said operative succeeded in destroying my standard e-mail account too. I ended up shrieking at her after an hour I was so stressed. I am not proud that I did so, but enough was enough. She just wasn't trained up to the job she was supposed to. Told me it was a software problem my end. Was it bum. She finally restored my non business e-mail, but when I tried it out, everything was duplicating in my in-box. Eldest son came round tonight and fixed the problem within minutes - and he's a draughtsmen, not a BT operative! Evaluation form I sent off was blistering. So was my complaint. Why don't they train people to do their jobs properly! Anyway, the upshot is that once the account was released, 500 e-mails came in and my schedule is cranking up fast. So if there's a radar silence, I'm in Purdah, working.
Les proz e les vassals
Souvent entre piez de chevals
Kar ja li coard n'I chasront
'The Brave and the valiant
Are always to be found between the hooves of horses
For never will cowards fall down there.'
Histoire de Guillaume le Mareschal
www.elizabethchadwick.com
---
Bibliomaniac
Currently reading: The Silent Companions by Laura Purcell & And So It Begins by Rachel Abbott (Pigeonhole)
Interest in HF: The first historical novel I read was Katherine by Anya Seton and this sparked off my interest in this genre.
Favorite HF book: Gone with the Wind by Margaret Mitchell!
Preferred HF: Any
Location: North Yorkshire, UK
Sorry to learn about your beautiful cat, LCW. It's always heartbreaking when a much loved pet dies.
currently reading: My Books on Goodreads
Books are mirrors, you only see in them what you already have inside you
~ The Shadow of the Wind
---
---