What did King Harold's Fighting Man banner look like? Does anyone know if there's a source I've missed which gives some clue about the pattern and device on this banner, and its colour?
The Fighting Man banner which was the personal standard of Harold Godwinsson, King Harold II of England, appears to be a bit of a mystery. Described as richly ornamented with gold and precious stones, bearing as its device the figure of a fighting man, there doesn't seem to be an image of it anywhere. The usually helpful Bayeux Tapestry shows the red dragon standard of the House of Wessex, but not the Fighting Man banner around which King Harold and his housecarls made their last stand against the Normans.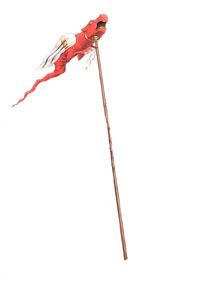 Wessex dragon standard. It's a windsock patterned after the Carolingian style, which was in turn based on the draco standards of the ancient Roman cavalry units.
Some sources say the Fighting Man was made by Harold's mother, Gytha, others that it was woven by Harold's common-law wife, Edith Swan-neck. William of Poitiers calls it "famous", so clearly it was well known as being associated with Harold.
In Parke Godwin's
Sherwood
, the Fighting Man is hidden away after the Battle of Hastings by an English warrior, and brought out years later as the stirring standard for a significant battle, but in reality it seems that William the Conqueror sent it as tribute to Pope Alexander II, perhaps in thanks for the Papal banner and ring Alexander conferred on William before the battle. From there it seems to have vanished into the dusty recesses of Vatican archives, never to be seen again.
Some claim the fighting man device was based on the image of the Cearne Abbas Giant, but given there's no actual evidence that the
Cearne Giant
existed in the eleventh century it seems more likely to have been a figure similar to the ones pictured on the Bayeux Tapestry.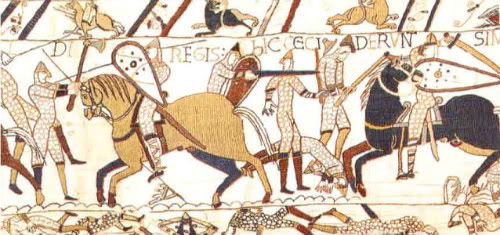 English axemen at work at the Battle of Hastings - excerpt from the Bayeux Tapestry
The standard chosen for the 2006 re-enactment of the Battle of Hastings shows a warrior with the distinctive round Anglo-Saxon shield and battle-axe, but appears a bit lacking in bling (as in gold wire embroidery and jewels)
Red seems a reasonable guess for colour, as you'd want something which catches the eye.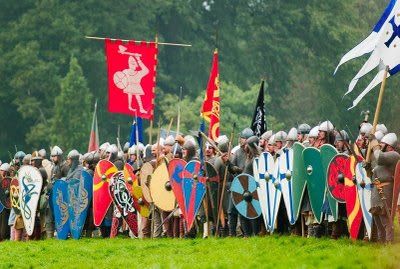 Photo of the 2006 re-enactment Fighting Man standard