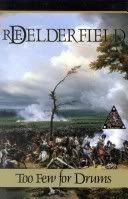 Shall they return to beatings of great bells
In wild train-loads?
A few, a few, too few for drums and yells,
May creep back, silent, to village wells.
Up half-known roads.
Wilfred Owen
The Send Off
Delderfield
is better known for his novels set in rural England around the lead up to and aftermath of the First World War, and it's significant that he chose a piece from WWI poet Wilfred Owen as the epigraph for
Too Few For Drums
. However he had an abiding interest in the Napoleonic Wars and wrote several non-fiction history books about the period. He also wrote a couple of novels with a Napoleonic War setting, the best known being
Seven Men of Gascony
, which follows the fortunes of seven
voltigeurs
from Napoleon's Grande Armée, culminating in the Battle of Waterloo.
Too Few For Drums
is a lesser known and slighter story, set during the Peninsular campaign where the Duke of Wellington made his mark.
Hounded by the French through Portugal after the
Battle of Busaco
, the British army pauses at Coimbra to blow up the bridge across the Mondego River as they retreat to the coast to hole up at Lisbon. A small squad of men from the 51st Foot is left behind when the British engineers set off the charge under the bridge prematurely, leaving them stranded and at the mercy of the enemy. When their captain is killed by a shot from a French skirmisher, nineteen year old Ensign Keith Graham realises to his horror that he is now in charge of the group. Fresh out of officer training school in England, Graham is quite clueless, but with the help of an experienced sergeant, leads the men on a hair-raising trek through hostile territory in an attempt to rejoin the main British army. On the way they meet up with a Welsh camp-follower, Gwyneth, who becomes essential to their survival.
Battle of Busaco
Together the British soldiers and Welsh woman are 10 in number, and like the 10 little Indians their number dwindles one by one during their dangerous journey. Graham grows up fast, learning steadfastness and leadership, and the enduring fellowship of fighting men. It's a tale of suspense and action, perhaps a little slower-paced and more prone to introspection than modern historical adventures, but enjoyable for all that. Remarkably, given that the book was published in 1964 at the height of macho HF, although Graham is the main protagonist, it is Gwyneth who is the heroine. Still young and beautiful despite being a follower of the drum for years, she holds the group together with her calm certainty. She is an instinctive tactician, utterly pragmatic and ruthless; conventional morality is irrelevant to her. She's definitely not merely decorative eye-candy à la Richard Sharpe's female partners! In spirit a warrior woman from ancient Celtic tradition, Gwyneth could in fact quite easily be seen as the goddess figure of myth and legend who for a time visits men in mortal form and shapes their fate. Although
Too Few For Drums
is a straightforward adventure, Delderfield's nod here and there to Celtic mysticism encourages this fancy.