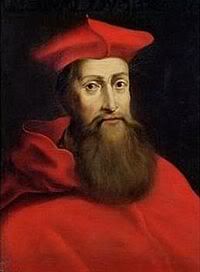 Cardinal Reginald Pole
Review of The Courier's Tale at Historical Novels Info
Every now and then you come across a novel which you enjoy as much for the history it reveals to you as for itself. This was the case for me with Peter Walker's
The Courier's Tale
, a novel about
Cardinal Reginald Pole
and his confidential agent, Michael Throckmorton, both actual historical figures, neither of whom I knew much about previously. Pole was a significant Renaissance figure who has been rather neglected in HF. Partly I suspect, this is because he spent a large part of his life in Italy trying to avoid Henry VIII's assassins, and partly because on his return to England as Archbishop of Canterbury during Queen Mary's reign, he unfortunately became associated with the horrors of Marian persecution. Yet Pole was a liberal, tolerant churchman of great intellect who detested the Inquisition and fought to bring Roman Catholicism into line with Protestantism. He was an attractive personality who drew to his court in Italy many Renaissance luminaries including Michelangelo and Vittoria Colonna.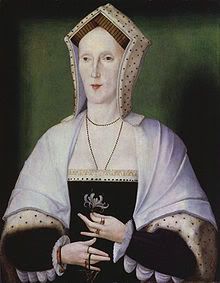 Margaret Pole, 8th Countess of Salisbury, the last Plantagenet.
Her horribly botched execution shocked even relatively hardened contemporaries.
Pole was of the blood royal, and through his mother
Margaret
, the last of the Plantagenets, actually had as much right to the throne as his cousin, Henry VIII. Pole saw it as his duty as spiritual advisor to hold up the mirror of truth to princes; popes, the Holy Roman Emperor and Henry VIII all received forthright letters from him.
Quote from a letter to Henry (you can just see the king frothing at the mouth while reading this) "…And yet here is all the difficulty for a prince. Who will tell him when he is at fault? And who has more need to hear it, with a thousand more occasions to fall?"
His treatise,
De Unitate
, delivered to Henry VIII in 1536 by Throckmorton, is a scathing condemnation of the king's divorce and tyranny in destroying those who oppose his separation from Papal authority, and the reason why Pole could never return to England during Henry's reign. His unfortunate family suffered instead; his mother, older brother and cousin executed and his 10 year-old nephew left to die of neglect in a dungeon cell.
De Unitate
is a remarkable document - Pole lets Henry have it with both barrels blazing. Here's a small sample:
"The men you have killed have, by their deaths, already written the truth about you in their blood. Unless you turn back, what deeds of renown might be inscribed upon your tomb? Perhaps this:
Like a raging animal, he tore to pieces the best men in his kingdom.
Or what about this:
He poured out immense sums to get the title 'incestuous' conferred upon him by the universities
.
King Sardanapalus chose as his epithet these words:
I have satisfied all my physical desires
.
Aristotle said that would have been better on the tomb of a cow than a king. You, however, should hurry to claim it as your own, in case much worse things are written there…."
Michael Throckmorton is also an interesting character. He came from an old landed family dating from the Conquest. He was born at the Throckmorton family seat in Warwickshire,
Coughton Court
, though it changed its appearance dramatically under the hands of his older brother, Sir George, who was obsessed with rebuilding. Home for 900 years to the staunchly Catholic Throckmortons, it is still run by the family today, though now held by the National Trust. It's known for its magnificent gardens, which were developed quite recently. Michael Throckmorton, though, never lived in England permanently after his youth, despite being granted several estates by Queen Mary in recognition of his loyal service to Cardinal Pole. He instead chose to live out his days in Italy, where he set up a profitable horse-breeding operation and raised his family.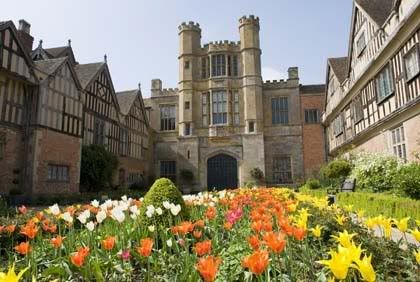 Coughton Court
http://tudorstuff.wordpress.com/2009/05 ... ton-court/
Comparisons which have been made around the 'net with Mantel's
"Wolf Hall
" are ridiculous, IMO. The two books are quite different in intention and style and to be honest, although
The Courier's Tale
is both entertaining and informative, and I enjoyed it very much, it doesn't have the depth or scale of
"Wolf Hall"
.