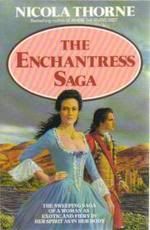 "Where she came from no-one knew. Few cared. The men saw the pride, the grace, and the fierce defiance in her eyes. The women pitied her exhaustion, her ragged clothes and her loneliness. None guessed the tragic past from which she was fleeing, or foresaw the strange future that was her destiny....

Three men desired Analee the gypsy girl during that violent summer of 1745. The first was rebel aristocrat Brent Delamain. The second, the dark gypsy Randal Buckland. The third, the man all men knew and feared as The Falcon......

And as the stormy years went by after Bonnie Prince Charlie's brave rebellion, this wild passionate woman's desperate fight for love and survival earned her a fire-forged reputation - THE ENCHANTRESS".
This is not so much a review as a reminiscent ramble--
A recent post by Divia with a query about one of Rosemary Ellerbeck's books reminded me that back in the early 1980s before she became a bestselling author of family sagas,
Nicola Thorne
wrote under the names Rosemary Ellerbeck and Katherine Yorke. As Katherine Yorke she wrote a historical saga set in the 18th century which was a lot of fun. It was written in the style of Kathleen Winsor, Juliette Benzoni, Sergeanne Golon etc, quite raunchy for the times, though by modern standards relatively tame.
It was originally published in three titles (under the name Katherine Yorke):
1. The Enchantress (1979)
2. Falcon Gold (1980)
3. Lady of the Lakes aka Falcon Fury (1981)
When Thorne made the breakthrough as a big name author, these three titles were reissued in a single volume called
The Enchantress Saga
, published under the name Nicola Thorne in 1985. The stories follow the life, times and lusty adventures of beautiful, bewitching Analee, daughter of a gypsy woman and an English aristocrat. The setting moves between Lakeland Cumbria, London, Paris and Versailles – the English and French courts of George II and Louis XV - with sidelines to military campaigns in Flanders and Europe, and through the turbulent period of the Jacobite Rebellion of 1745 and its aftermath. Analee encounters and fascinates many men, even having a fling with Charles Edward Stuart (Bonnie Prince Charlie), an alcoholic exile in France and embarrassment to the French king. She becomes mistress and later wife to the Marquess of Falconer, a charismatic English nobleman and soldier who starts off as Prince Charming but transforms over the years into the Beast.
Thorne packs a lot of interesting royal, political and military history into Analee's tale, and some fascinating information about gypsy lore. If you enjoy the exploits of Amber, Angélique and Marianne, you might like to give this one a try.