Fred Burnaby
's account of his epic trip by train, sleigh, camel and horseback to the ancient Silk Road city of
Khiva
in the winter of 1875 has become a classic, and deservedly so. Burnaby's trip was partly undertaken to check out the situation in Central Asia regarding Russia, Britain's great rival for power in the sub-continent in what is known as the
Great Game
. Russia had been gobbling up small states in the area, bringing its sphere of influence ever closer to India, proud possession of the British Empire. However the British authorities knew nothing of Burnaby's expedition and would have undoubtedly vetoed it if they'd got wind of it. Burnaby was a loyal and distinguished soldier, but a maverick. The Russians had recently occupied and forbidden foreigners entrance to Khiva, therefore Burnaby had an irresistible desire to go there. Although his trip was ostensibly a fact-finding mission, I suspect it was more in the nature of a lark and patriotic nose-thumbing gesture.
His vigorous colourful writing style had already attracted attention and he had written several newspaper articles.
A Ride to Khiva
is articulate, straightforward, and lacking in self-aggrandizement. Burnaby has a great eye for detail, ear for cadence of language and a nice sense of humour. You get a clear impression of someone who would have been a great companion, a man with a contagious zest for life.
Burnaby sometimes reflects the now politically incorrect prejudices and views of the British Empire at its height. The Russians might be devious, untrustworthy blighters, but at least they are white Europeans, by Jove. White European superiority is not in doubt. This is the period when the philosophy of The White Man's Burden was widely accepted in Britain; the concept that white people have a duty of care to rule over less fortunate peoples from other ethnic and cultural backgrounds.
Accordingly Burnaby will occasionally come out with remarks which seem outrageous to us but wouldn't have raised an eyebrow at the time, like this: "Were the authorities in Turkistan, acquired by Russia in recent years, afraid of letting Europe know that instead of raising the level of morality amidst the inhabitants of central Asia, the latter had in many instances brought the Russians down to an Oriental level, and that the vices and depraved habits of the East were actually being acquired by some of the conquerors?"
On the other hand he's clearly an intelligent man and well able to make perspicacious and sometimes prophetic assessments about the situation in Central Asia. Here he speaks about Russia's future."It is several years since the serfs were emancipated, but the men who have been brought up as slaves find it difficult to get rid of the feeling of awe when in the presence of their superiors. Perhaps it is better that things follow in this groove. It would be a bitter day for Russia should the socialistic and nihilistic tendencies which are being developed in her larger towns become extended among her rural population"
He did get it sadly wrong though when he suggested that Germany was a more natural ally for Britain than Russia could ever be.
It's easy to see why Burnaby's record of his adventurous travels has been reprinted so many times. It's a unique account of a particular time, place and world view, told with vivid immediacy. Burnaby wrote a sequel called
On Horseback Through Asia Minor
, in which he recounted his 1876 journey from Constantinople into Asia, to see what the Turks and Russians were up to, but he allows anti-Russian propaganda greater rein in the second book and
A Ride to Khiva
is generally acknowledged as being the more readable of the two.
More info at Classic Travel Books
Burnaby was a classic dashing Victorian master of derring-do, and according to
this intriguing post
an early casualty of the cult of celebrity.
Great British Nutters- Frederick Burnaby, the bravest man in England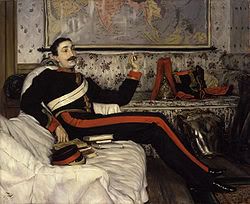 Fred Burnaby as painted by Tissot, and looking very debonair in full military kit. After reading
A Ride to Khiva
, though, it's hard to imagine him without his sheepskin suit and frozen moustache!