What are you reading, Donroc? There aren't that many novels around set in Charlemagne's period, and the only one I've come across which included the thermal pool at Aachen was a time-travel historical romance
I'm currently reeling amidst the carnage at the [url=http://www.burnpit.us/2010/09/battle-of-stirling-bridge-"we-are-ready-to-meet-them-beard-to-beard"/]Battle of Stirling Bridge.[/url] There's bloody chaos as the English forces led by the Earl of Surrey and the hated Treasurer Hugh Cressingham are cut down by William Wallace's Scottish rebels.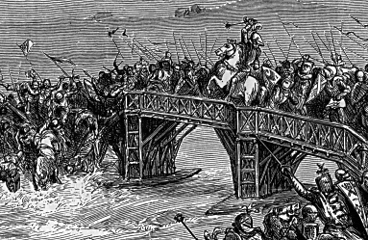 Stirling Bridge collapses under the weight of the Earl of Surrey's men.
Nearly finished Robyn Young's
Insurrection
, first in a trilogy about Robert the Bruce.