Polling will close on
4 September
.
A Time for Singing by Elizabeth Chadwick
In 1173, Roger Bigod is heir to the vast and powerful earldom of Norfolk When his treacherous father, Hugh, loses the family lands and castles in a rebellion against King Henry II, Roger finds himself in reduced circumstances and dogged by a bitter family dispute with his half brother over the remaining crumbs. Whilst trying to resolve the matter, he encounters Ida de Tosney, the King's young mistress. Seduced by Henry, Ida's gaze is now drawn to Roger in whom she sees a chance of lasting security beyond the fickle dazzle of the court. But she has to navigate a careful path between her dearest wishes and the King's reluctance to part with her. Every fulfilled wish has its price, and that price is losing the son she has borne to Henry. When King Richard comes to the throne, Roger is restored to his family's lands and becomes a great earl, and one of the richest men in England. He builds a great castle at Framlingham for himself and for Ida, but life is still riddled with uncertainty as Richard goes on crusade and the men left to govern the country quarrel their way into civil war. Ida struggles to come to terms with their new future... (480 pages)
The Devil's Brood by Sharon Kay Penman

The long-awaited and highly anticipated final volume in Penman's trilogy of Henry II and Eleanor of Aquitaine—a tumultuous conclusion to this timeless story of love, power, ambition, and betrayal.
Where the second novel in the trilogy, Time And Chance, dealt with the extraordinary politics of the twelfth century, climaxing with the murder of Thomas Becket and Henry's confrontation with the Church and self-imposed exile to Ireland, Devil's Brood centers on the implosion of a family. And because it is a royal family whose domains span the English Channel and whose alliances encompass the Christian world, that collapse will have dire consequences. This is a story of betrayal as Henry's three eldest sons and his wife enter into a rebellion against him, aligning themselves with his bitterest enemy, King Louis of France. But it is also the story of a great king whose brilliance forged an empire but whose personal blind spots led him into the most serious mistake of his life.
Sharon Kay Penman has created a novel of tremendous power, as two strong-willed, passionate people clash, a family divides, and a marriage ends in all but name. Curiously, it is a novel without villains—only flawed human beings caught up in misperceptions and bad judgment calls. Most devastating to Henry was not his sons' rebellion but his wife's betrayal in joining them. How could it happen that two people whose love for each other was all consuming end up as bitter adversaries? That is the heart of Penman's tale in Devil's Brood. (752 pages)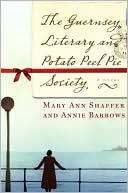 The Guernsey Literary and Potato Peel Pie Society by Mary Ann Shaffer and Annie Barrows
" I wonder how the book got to Guernsey? Perhaps there is some sort of secret homing instinct in books that brings them to their perfect readers." January 1946: London is emerging from the shadow of the Second World War, and writer Juliet Ashton is looking for her next book subject. Who could imagine that she would find it in a letter from a man she's never met, a native of the island of Guernsey, who has come across her name written inside a book by Charles Lamb….
As Juliet and her new correspondent exchange letters, Juliet is drawn into the world of this man and his friends—and what a wonderfully eccentric world it is. The Guernsey Literary and Potato Peel Pie Society—born as a spur-of-the-moment alibi when its members were discovered breaking curfew by the Germans occupying their island—boasts a charming, funny, deeply human cast of characters, from pig farmers to phrenologists, literature lovers all.
Juliet begins a remarkable correspondence with the society's members, learning about their island, their taste in books, and the impact the recent German occupation has had on their lives. Captivated by their stories, she sets sail for Guernsey, and what she finds will change her forever.
Written with warmth and humor as a series of letters, this novel is a celebration of the written word in all its guises, and of finding connection in the most surprising ways. (288 pages)

Passion by Jude Morgan
Theirs was a world of obsession, genius, and above all…
In the turbulent years of the French Revolution and the Napoleonic Wars, three poets—Byron, Shelley, and Keats—come to prominence, famous and infamous, for their vivid personalities, and their glamorous, shocking, and sometimes tragic lives. In this electrifying novel, those lives are explored through the eyes of the women who knew and loved them—intensely, scandalously.
Four women from widely different backgrounds are linked by a sensational fate. Mary Shelley: the gifted daughter of gifted parents, for whom passion leads to exile, loss, and a unique fame. Lady Caroline Lamb: born to fabulous wealth and aristocratic position, who risks everything for the ultimate love affair. Fanny Brawne: her quiet, middle-class girlhood is transformed—and immortalized—by a disturbing encounter with genius. Augusta Leigh: the unassuming poor relation who finds herself flouting the greatest of all taboos.
With the originality, richness, and daring of the poets themselves, Passion presents the Romantic generation in a new and unforgettable light. (544 pages)