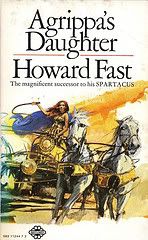 Not the bodice-ripping historical pot-boiler suggested by its appearance, this is a vivid picture of first century Israel in the years preceding the Great Jewish Revolt of 66AD. In telling the story of the last Jewish Queen,
Berenice
, Fast tells the story of Judæa, a country in melt-down, and of the political and philosophical forces in play which led to the catastrophic
siege of Jerusalem
by the Romans, its fall, and the destruction of the heart of Judaism, the magnificent
Temple
built by Berenice's great-grandfather, Herod the Great.
Berenice was a striking figure, beautiful and intelligent. She and her brother Agrippa were the youngest children of Agrippa I, client King of Israel under Roman rule. A cosmopolitan man, he grew up in Rome and was a great friend of the emperor Claudius; both his younger children lived there for a time and as well as Aramaic and Hebrew, were fluent speakers of Latin, and also of Greek, Hellenic culture and philosophy being a strong influence throughout the near East at that time. When he died quite suddenly, his teenaged son was thrown unprepared into the maelstrom of Roman and Jewish politics, and turned to his forceful and astute sister for support and advice.
An extraordinarily independent and powerful woman, Berenice co-ruled Judæa with her brother Agrippa II for much of her life. She married three times between the ages of 14 and her early 20s; all these marriages were short-lived. During the Jewish Revolt she and her brother, angered by the seizure of Jerusalem by Zealot rebels and the destruction of personal holdings, supported Roman general Vespasian and his son and captain,Titus. Berenice, who was immensely wealthy, helped fund Vespasian's campaign to become emperor, and began a passionate lengthy affair with Titus, despite the fact that she was quite some years his senior. After the fall of Jerusalem she accompanied Titus to Rome, and lived with him as his consort. They intended to marry, but virulent opposition led Titus to send Berenice away. When Titus became Emperor some years later they tried again, but once more the Roman senate and people reacted violently towards the idea of an Eastern Queen as empress. Putting duty first, Titus parted from Berenice "which was painful for both of them", sending her to Gaul, maybe hoping things would cool off, but two years later he died and at this point Berenice mysteriously vanishes from historical record, though some sources claim that she lived on in Gaul until the age of 72.
Berenice was both reviled as a harlot and revered at various stages of her life. Much of what we know of her was recorded by those who had no love for her; Jewish historian and relative Flavius Josephus, who was not a fan, and who perpetuated the rumour that Berenice and her brother shared an incestuous relationship, and by Roman historians who reflected popular Roman opinion. Fast creates an irresistible, sometimes unlikeable, but charismatic woman, in her youth prone to wild mood swings, and the violent temper and bouts of depression which were a family inheritance, but later strongly influenced by the philosophy of the House of Hillel, which advocated peace and brotherly love. The story of the rival religious schools of philosophy, t
he Houses of Hillel and Shamma
i, and their roles in the subsequent Revolt is particularly interesting.
Berenice was the last queen of a royal line descended from King David, and before him, Aaron, the brother of Moses; the last queen of the
Herodian
dynasty and the last
Hasmonean
princess. With the death of her brother, the Jewish royal house of Israel came to an end. She was involved in some of the pivotal events in Christianity (she was present at the trial of Paul by the Roman governor Festus), Judaism and the Roman Empire and her story is a compelling one.
I wish that Howard Fast had provided a bibliography with his book; I would like to know, for example, the historical source of the relationship which he builds between Berenice and Shimeon ben Gamliel of the House of Hillel, as I haven't found a connection anywhere. It could be of course that he was using creative licence.
I read
"Agrippa's Daughter"
( first published 1964) shortly after reading Lion Feuchtwanger's "
Josephus"
, about the Jewish historian who recorded the events of the First Jewish-Roman War.The two novels cover the same timeframe and make perfect complementary reading for anyone interested in this dramatic, eventful period.
"Encyclopedia of Women in the Ancient World
" (pg 28)
*Edit- unfortunately I can't find a picture of the hilariously tacky cover image of my 1964 edition, which shows a Boudica type figure in an improbable breast plate furiously racing a chariot and four frantic white horses through the desert
Maybe the artist was inspired by "Ben Hur"?
* Found a cover image!