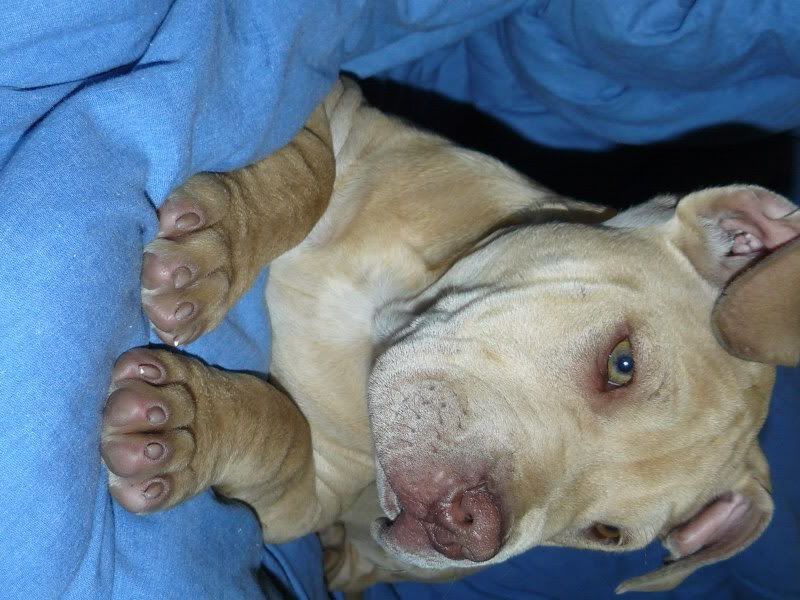 He was just sitting in the rain by the carts when I pulled up. He was all dirty and soaked to the bones and just looked so pitifull!! So what else could I do but scoop him up?? I walked around the parking lot (that was fun with a heavy puppy and an umbrella in pouring rain, ) trying to see if maybe he had gotten out of a car or something but no luck. I had my dog, Lila, with me as I was running errands and usually will take her along but luckily I had a cat crate in the back, which the puppy barely fit in.
I gave him a bath and I must say, he cleans up very nicely!! He had some gunky stinky yeasty ears though. I cleaned them out and put some ear powder in them and they smell fine now. I took him to animal control right after I found him and they scanned him for a chip but found nothing. I really think that someone is missing this dog as he seems healthy, is fat as a bug, and is very well behaved for such a young puppy. He knows "sit" but that's all as far as I can tell. He's not potty trained though. I have no idea what food he was on and I have no dog food in the house as I feed raw. I gave him some chicken with a tiny bit of organ meat and some rib bones. He chowed it down like he'd been eating it all along!!
From his teeth he looks to be between 3-4 months old but this guy is a little tank!! He weighs 25 lbs!! He looks exactly like a minitature version of Ceasar Milan's "Daddy". Right now he's pretty much velcro puppy and he is just a little sweetheart. I'm goona put a "found" ad in the local papers and see what happens. My fiance loves him and keeps asking me if we're goona keep him, lol! I never expected that!! Lila has DA issues but she loves puppies and was extremely good with him last night. This morning she did growl at him when she was guarding a resource..me! So I gave a firm "eh eh" and then gave both of them treats while they were very close to me so they'd associate both of them being near me with good things. Afterwards she was back to being very interested and friendly towards him. But I will have to watch her closely, that's for sure!
Here are a couple more pics! I'll take some more tonight!